Partnerships and Collaborations
Sentinel North's partnership and collaboration strategy is based on a vast network of academic, public, and private collaborators backed by numerous research centres and groups. At the international level, research and training partnerships are based on the desire of internationally renowned institutions and researchers to work together on innovative joint projects with a view to building long-term collaborative relationships.
International Collaborations in Research and Training
Since its inception, the Sentinel North strategy was presented to a number of international institutions and research centres with the aim of encouraging research partnerships. These visits have resulted in funding for joint and co-financed research projects.
Université Côte d'Azur
Université Laval, through the Sentinel North strategy, has teamed up with the IDEX program of Université Côte d'Azur (UCA) to develop innovative research projects in which researchers from both universities work in convergence. Official announcement
UiT The Arctic University of Norway
As the leading arctic research universities in their respective countries, Université Laval and the University of Tromsø - The Arctic University of Norway (UiT) have joined forces and leveraged their complementary expertise in new collaborative projects. Official announcement
All Sentinel North research projects
Several young Sentinel North researchers were awarded mobility scholarships (incoming and outgoing) to do research internships or attend international PhD schools. Hosting international students and mentors in our own labs and field schools is another way to expose our students to high-level international training opportunities.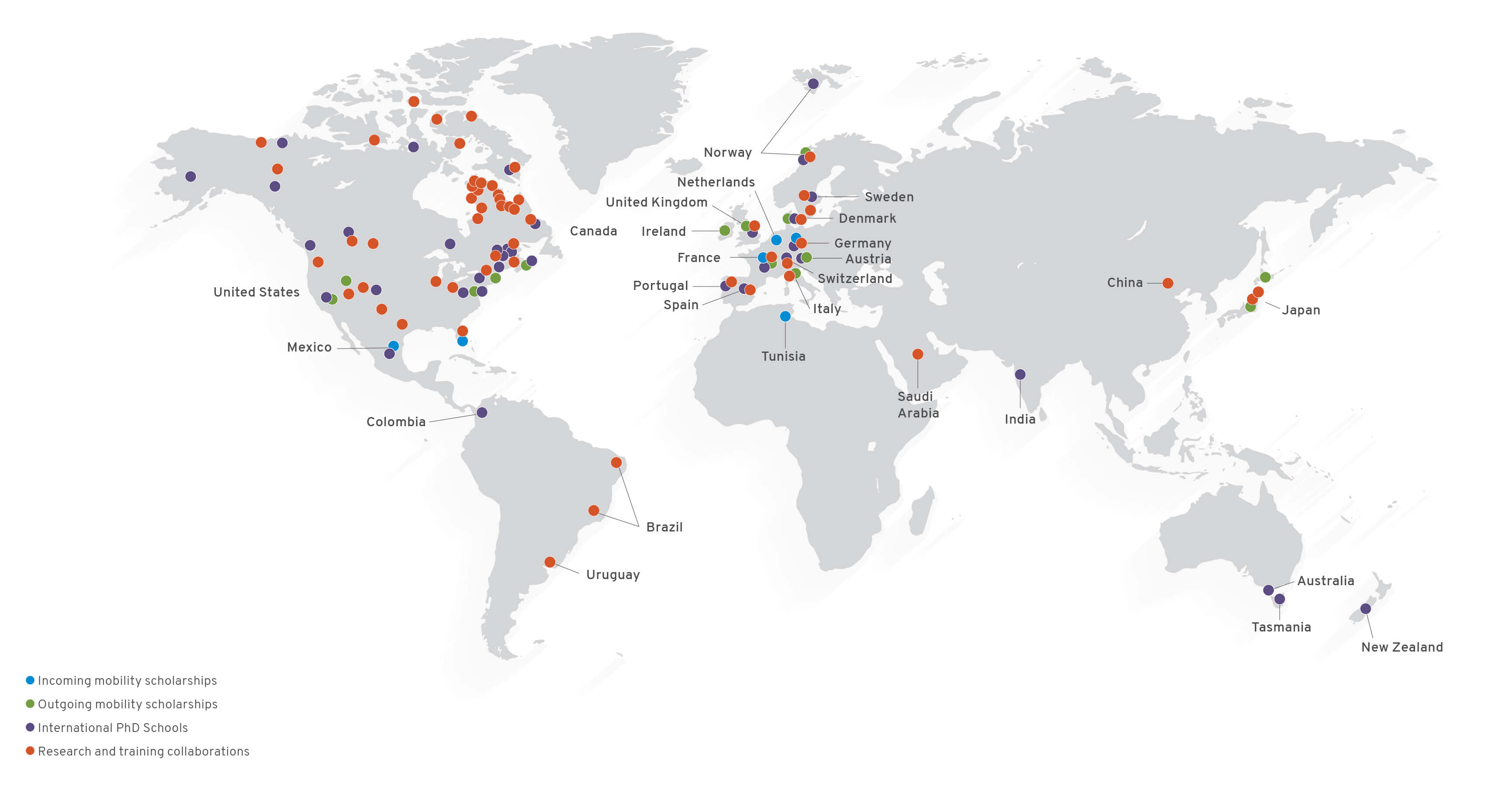 Click to enlarge
---
International joint units
In association with the four Canada Excellence Research Chairs (CERCs) active within the program, Sentinel North took steps to reinforce two existing international joint research units (UMIs) in partnership with the French National Centre for Scientific Research (CNRS) and Sao Paulo State University (UNESP) in Brazil, and to establish two new UMIs with the University of Lausanne in Switzerland and the Italian National Research Council (CNR). These research chairs and joint research units are led by internationally renowned researchers in their fields, enabling Sentinel North to draw upon outstanding international teams in pursuing its research and technology development objectives:
Takuvik International Joint Research Unit (UL/CNRS, France), associated with the CERC in Remote Sensing of Canada's New Arctic Frontier (Chairholder: Marcel Babin)


Québec-Brazil Photonics Research International Joint Research Unit (UNESP, Brazil), associated with the CERC in Photonic Innovations (Chairholder: Younès Messaddeq)


International Joint Research Unit in Child Neural Development and Psychiatry (Université de Lausanne, Switzerland), associated with the CERC in Neurophotonics (Chairholder: Pierre Marquet)


International Joint Research Unit for Chemical and Biomolecular Research of the Microbiome and Its Impacts on Metabolic Health and Nutrition (CNR, Italy), associated with the CERC in the Microbiome-Endocannabinoidome Axis in Metabolic Health (Chairholder: Vincenzo Di Marzo)
---
For more details about Sentinel North partnerships and collaborations, see our latest Activity Report