Established in the Fall of 2017, the Sentinel North Student Association (Association étudiante de Sentinelle Nord - AÉSN) aims to strengthen the sense of belonging to the Sentinel North community and foster the development of a transdisciplinary network of contacts.
More precisely, the Association commits to:
Broadcasting information relevant to students evolving within Sentinel North
Connecting Sentinel North students with each other
Planning social and educative activities
Representing students in the decision-making processes of Sentinel North
---

Activities

Northern transdisciplinary challenge
Inspired by the multidisciplinary nature of Sentinel North, this challenge is open to all students and postdoctoral fellows of Université Laval, who will have to use their creativity and ingenuity to solve a concrete technical problem based on northern issues.


Sentinel North Pint - Curiosités du monde naturel 2019
As part of the Curiosités du monde naturel exhibit at the Musée de la civilisation, the Association is organizing a special edition of the Sentinel North Pint. This unique event will take place on May 30th and will bring together presentations from each of Sentinel North's research themes.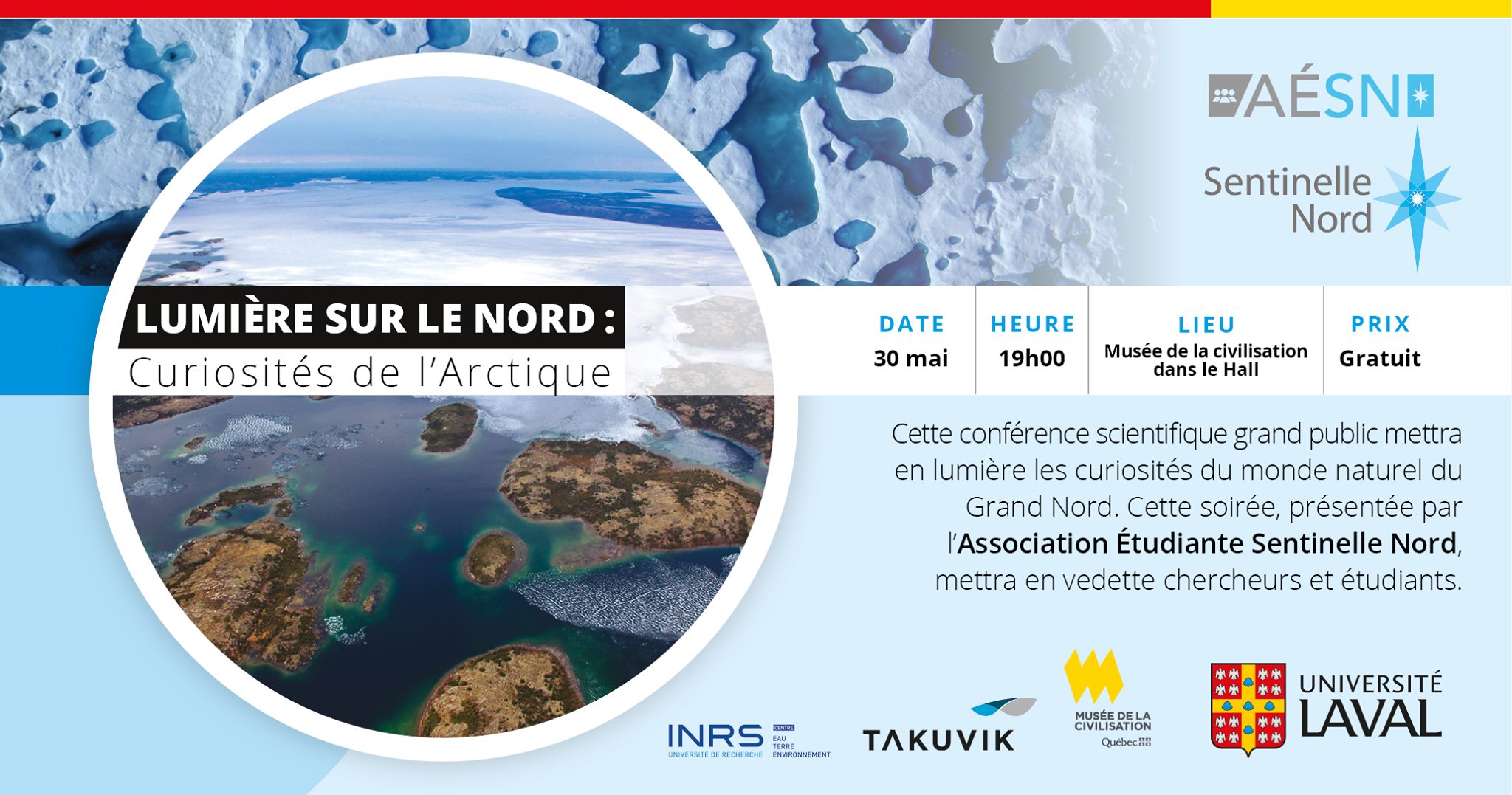 ---

Sentinel North Pint - Fall 2018
The Sentinel North Student Association invites you to the second Sentinel North Pint , which will take place on November 13, 2018 at the District St-Joseph (240, rue St-Joseph Est) from 7 to 9 pm. This science outreach activity is open to the public and aims to present the research of Thematic project 2: Light as a driver, environment, and information carrier in natural environments and human health through a series of conferences by the researchers at the heart of the projects.
---
Logo competition
The Association launched a logo contest at the Sentinel North second annual meeting. The participants voted and the winner is Mohamed Badine, master's student in computer science. Congratulations!
---

Sentinel North Pint
| | |
| --- | --- |
| The Sentinel North Student Association invites you to the first Sentinel North Pint, which will take place on April 5, 2018 at La Ninkasi bar in Quebec City (811 Saint-Jean Street) from 7 pm to 9 pm. This science outreach activity is open to the public and aims to present the research of Thematic Project 3: Microbiomes: sentinels of the northern environment and human health through a series of conferences by the researchers at the heart of the projects. | |
Executive committee
---
---
---
---
---
Antoine Gervais, B. Eng., Representative of Thematic project 1
Master's in electrical engineering
Sentinel North research project 1.4
antoine.gervais.1@ulaval.ca
---
Yasmine Alikacem, B. Eng., Representative of Thematic project 2
Master's in biophotonics
Sentinel North research project 2.44
pascal.paradis.2@ulaval.ca
---
Other active members
Jehane Abed
Ph.D in microbiology-immunology
abed.jehane@gmail.com
Catherine Van Doorn
Master's in biology
catherine.van-doorn.1@ulaval.ca
Filippo Ferrario
Postdoctoral fellow in biology
filippo.f3rrario@gmail.com
Stéphanie Guilherme
Postdoctoral fellow in spatial planning and development
stephanie.guilherme.1@ulaval.ca
Matthieu Huot
Ph.D in biophotonics
matthieu.huot.1@ulaval.ca
Félix Lévesque-Desrosiers
Master's in physics
felix.levesque-desrosiers.1@ulaval.ca
Pascal Paradis
Ph.D in physics
Pascal.paradis.2@ulaval.ca
Joanie St-Onge
Master's in biology
joanie.st-onge.1@ulaval.ca
Alexandre Terrigeol
Ph.D in biology
alexandre.terrigeol.1@ulaval.ca